2. Fluffy Chickpea Pancakes with Vegetables and Avocado Sauce
Full of fiber and protein, these chickpea pancakes will leave you feeling satisfied for hours.
With ingredients like spinach, tomatoes, bell peppers, and red onions, each bite of these delectable pancakes is packed with nutrition and flavor. Plus, nutritional yeast and chickpea flour pair up to give this recipe a protein-packed punch.
3. Banana Berry Beet Smoothie Bowl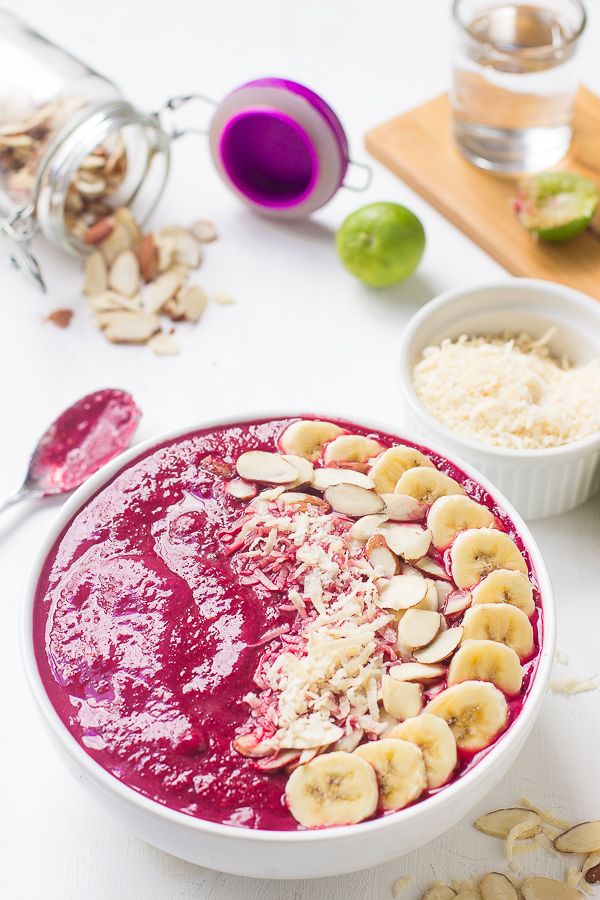 Why drink your morning smoothie when you can eat it?
This smoothie bowl is as delicious as it is beautiful. In addition to being a high-protein, low-carb vegan breakfast, it's also loaded with health-promoting ingredients, like flax meal, almonds, and raspberry.
4. Vegetable White Bean Hash
This satisfying vegan meal comes together quickly and easily. Bonus: it's also super delicious.
In addition to being high in protein, this recipe uses tons of veggies, making it high in fiber too. Leeks, red bell pepper, garlic, sweet potato, and kale make this a nutrient-crammed breakfast,